Nitrous Oxide for Children
Your Child's First Dental Visit
Here at Dr.O'Mallon's office our goal is to make your first visit fun, welcoming and stress-free for both you and your child. We listen and understand your concerns. Dr. O'Mallon strives to protect your child's teeth by recommending starting dental checkups early. The American Dental Association say that the first visit should occur no later than the child's first birthday. It's a great way to introduce your little one when there is no dental problems.
What To Expect....
While in the waiting room, your child can read books, play with puzzles or color pictures! Our staff enjoys engaging with you and your child, answering questions you both may have. Once inside our exam area, Dr. O'mallon will gently examine your child's teeth and gums, looking for decay and other problems. Usually a prophylaxis, or cleaning with flouride is then administered depending on the age.
Leaving With a Smile....
We promise to do our part in keeping your child's dental health at its best. Together, with your help, we will make a great TEAM!
Online Dental Education Library
Our team of dental specialists and staff strive to improve the overall health of our patients by focusing on preventing, diagnosing and treating conditions associated with your teeth and gums. Please use our dental library to learn more about dental problems and treatments available. If you have questions or need to schedule an appointment, contact us.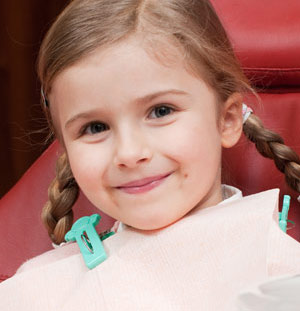 Some children are just too fearful to receive necessary dental care. In that type of situation, conscious sedation with nitrous oxide may be recommended to help make your child's experience of dental treatment stress-free.
Nitrous oxide, a colorless gas with a slightly sweet odor, has been used in medicine for about a century. It's a safe and effective method of administering conscious sedation, which means that a child (or adult) will stay awake during the procedure, but feel completely relaxed — even happy. All bodily functions remain normal during the administration of nitrous oxide, and its effects wear off quickly afterwards.
How Is Nitrous Oxide Administered?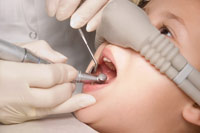 As a form of conscious sedation, nitrous oxide is inhaled through a small mask that fits comfortably over a child's nose. The gas is mixed with oxygen as it is being delivered, and both gases are always kept at a level that is safe for the body. In just a few minutes, the patient may start to experience a floating sensation, and perhaps some tingling in the hands and feet. That's a sign that the sedation is working. Once it has been verified that your child is calm and comfortable, and that the dose is correct, the dental procedure can begin.
Nitrous oxide itself isn't a substitute for a local anesthetic in children or adults as it's considered an anxiolytic, which means it makes anxiety disappear. However, for some pediatric procedures, a child receiving nitrous oxide may not need an anesthetic injection. Even if they do need a numbing shot, they won't mind at all while under sedation with nitrous oxide. Yet they won't be asleep — they'll be able to speak, be aware of what's going on, and they will remain in control during the procedure. In fact, the dose can be fine-tuned to just the level of sedation they need to make them comfortable yet alert.
When the procedure is over, the flow of nitrous oxide is decreased to zero, and the oxygen will be increased. After resting in the chair for a few minutes, the child will feel completely normal.
Who Can Benefit From Nitrous Oxide?
Any child whose anxiety would preclude dental treatment can benefit from conscious sedation with nitrous oxide. Before your child is treated, you will be asked for a complete medical history, including any medications your child is taking. Your child will be kept safe and comfortable throughout the procedure, and will likely not remember a thing about it afterwards.
Related Articles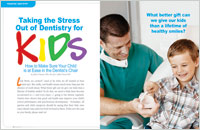 Taking the Stress Out of Dentistry for Kids Finding a dental practice should be like finding your child a cuddly warm blanket — a comfortable and secure environment in which real communication can occur. Nowadays, all parents and child caregivers should be saying that their little ones enjoy dental visits and even look forward to them. If this isn't the case in your family, our experts will tell you how it can be... Read Article